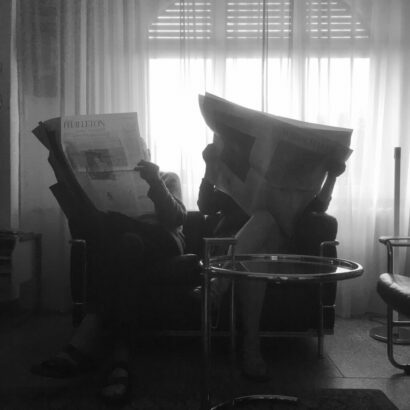 Critic's Pick – Art News
The recent German television documentary "Berlin by Night" focuses on some unusual night owls; an enterprising housewife who peddles homemade sandwiches at after-hours bars and the "Illuminator," who offers amorous couples candles instead of roses. But the true star of the film is Jens Komossa, who describes his profession as "standing around all night and guarding the camera." The exposure time for one of his nocturnal images can stretch to six or even twelve hours. "If you only make one picture in an entire night," says Komossa, "a special kind of concentration becomes possible."
The artist began taking his first night photos, using only ambient light, while he was studying for his fine-arts degree at the Folkwang school in Essen in the early 1990s. Traveling through the French countryside, he became fascinated by the glow of neon signs and streetlamps in sleeping villages and town, and this effect could only be accurately recorded using prolonged exposures. He went on to use the same method to document the decrepit charm of low-budget hotel rooms in France, the streets of Berlin, and his friends' apartments, looking out their windows at night. Those interiors, entitled "Berlin Rooms" (1998), were shown in 2005 at Dorothée Schmid Art Consulting in London, where prices for his works ranged from $2000 to $4700. For another series, "Television Rooms," Komossa, who is also represented by Sabine Schmidt in Cologne, photographed spaces lit solely by the glow from an unseen television. This month some of the artist's nighttime shots of Berlin can be seen in a public installation, "Berlin Garten," in a house in the city's Mitte district.
Komossa arrived at his distinctive idiom after years of experimentation. Prior to his studies at the Folkwang, he completed a three-year apprenticeship in the photography department of the Thyssen Steel Corporation in Duisburg, where he acquired technical expertise in the craft that had long interested him. He photographed company executives, machines, material samples, and automobile parts, but, as he recalls, "the bright, hard-edged industrial like just wasn't my thing. He began to shoot what he describes as "irrelevant objects- steps, sewer covers, hallways- which became oddly abstracted when photographed at night.
Although Komossa still photographs recognizable scenes and objects, his more recent work, which will be on view in May at Dorothée Schmid, has grown increasingly abstract. Without an identifiable context, isolated stretches of ceilings or walls become fields of color and texture. Thanks to the long exposure time, the hues achieve an astonishing richness, dramatically transforming the folds in a shower curtain into a flourish of Renaissance drapery.
Prof. David Galloway
– – – – – – – – – – – – – – – – – – – – – – – – – – – – – – – – – – – – – – – – – – – – – – – – –
I am pleased to write about the work of Jens Komossa. As in the best case of an artist, one can say that Jens Komossa's art is entirely an expression of the artist's personality itself. Jens Komossa has become known for his analogue long exposures of rooms. Rooms are always only the occasion. His idiosyncratically colored night photographs of rooms, always grouped in series, series that are often followed in parallel over years, deal with the traces that the actions of their actors preserve.
His photographs of spaces show man as an individual, as part of our media landscape, or, as in his current series DARK, as a political being – there as victim as well as perpetrator.
Man leaves behind a space shaped by his deeds. In his work, Komossa deciphers the stage shaped by the actor and lays it bare to us. Anyone who gets to know Jens Komossa quickly realizes that he is also a man of language. It is only logical that his current work, DARK, links texts written by the artist himself with his own night photographs. The fragile beauty of his images is unmasked by the brutal content of the texts, transforming his work into a political tool. One can sense that behind these works, which are documentary poetry in the best sense of the word, there has been intense research and personal examination of the subject of fascism.
Prof. Dr. Richard David Precht